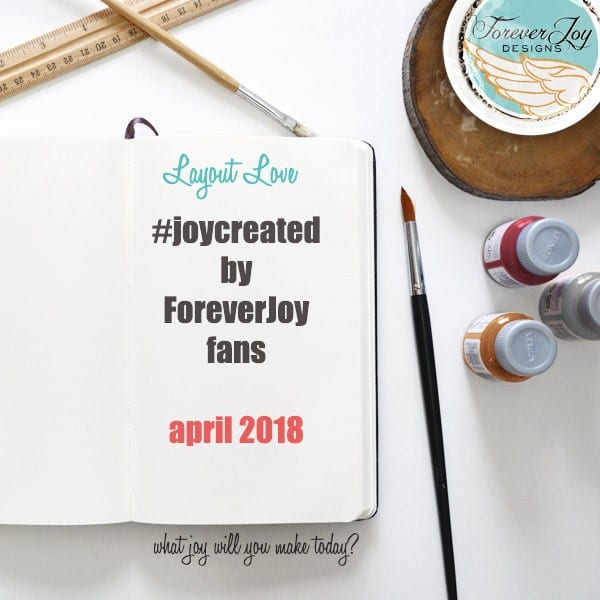 Truth told- one of my favorite things about this job is seeing the designs I put on the drawing board telling your stories.  There will be many times a page catches my eye- or journaling pulls at me so strongly I have to stop- zoom in and take in the story being told- and knowing that products I've created help add to that story- man! That makes me smile big!
I thought it would be fun to share some layout inspiration I came across this month in the ForeverJoy gallery. And you know what's awesome? These pages are not by members of my Creative Team- but by fans just having fun! –  who  I think you'll agree all are great examples of storytellers sharing what's in their hearts in 12×12 squares with their photos, words and a little joyful art!
I love the soft but bold feel of this page- and using black and white photos gave the layout a timeless look.  (it's also a great trick to focus on the subject of your photos and get colors play well together!
by tammybean004 | TO THE MOON page kit
The blending on this layout is just dreamy! And choosing a very lightly textured white background makes all the other colors pop!
by Psychozoe | 
MERMAID LIFE page kit
I always love a "before and after" page- and the contrast of  B&W vs. color photo really compliments that theme.  The layering of elements and vertical cascade also give the page a terrific flow! 
by Trish | GOAL DIGGER  page kit
Gosh! the colors, the grid, the photos! All these add to such a great energy on this page and a fun retro vibe! There's just so much to love here! 
by Glazefamily3 | WILD LIFE page kit
Once again, black and white wins the day- and the cropping is perfect! The use of a window pane as a grid and a center placement for the design just makes this page so graphically pleasing! 
by cfile | COMFORT & JOY page kit
Finally- this page proves that sometimes, less is more! Once again cropping adds even more to the story than a full on subject and the black accents play beautifully with the photo and the soft colors on the rest of the page.  
by KarenB | CAKE WALK page kit
I love to see the joy you guys create!  If you are up for sharing- please be sure to post your layouts in my gallery at the Lilypad, or tag me on on your social platforms! 🙂